There are lots of developmental items you can buy from a baby going through babyhood. While some of these help the baby's development, most are a total waste of money.
With baby gyms growing more popular by the day, you may ask: are baby gyms even worth it?
Here Is Why Baby Gyms Are Worth It:
Baby gyms help to improve your baby's hand-eye coordination. They stimulate the brain of your baby. Improve muscle development and some can even double as an excellent surface for tummy time.
With all the benefits of having a baby gym, a baby gym is undoubtedly a worthwhile investment, if you use it properly.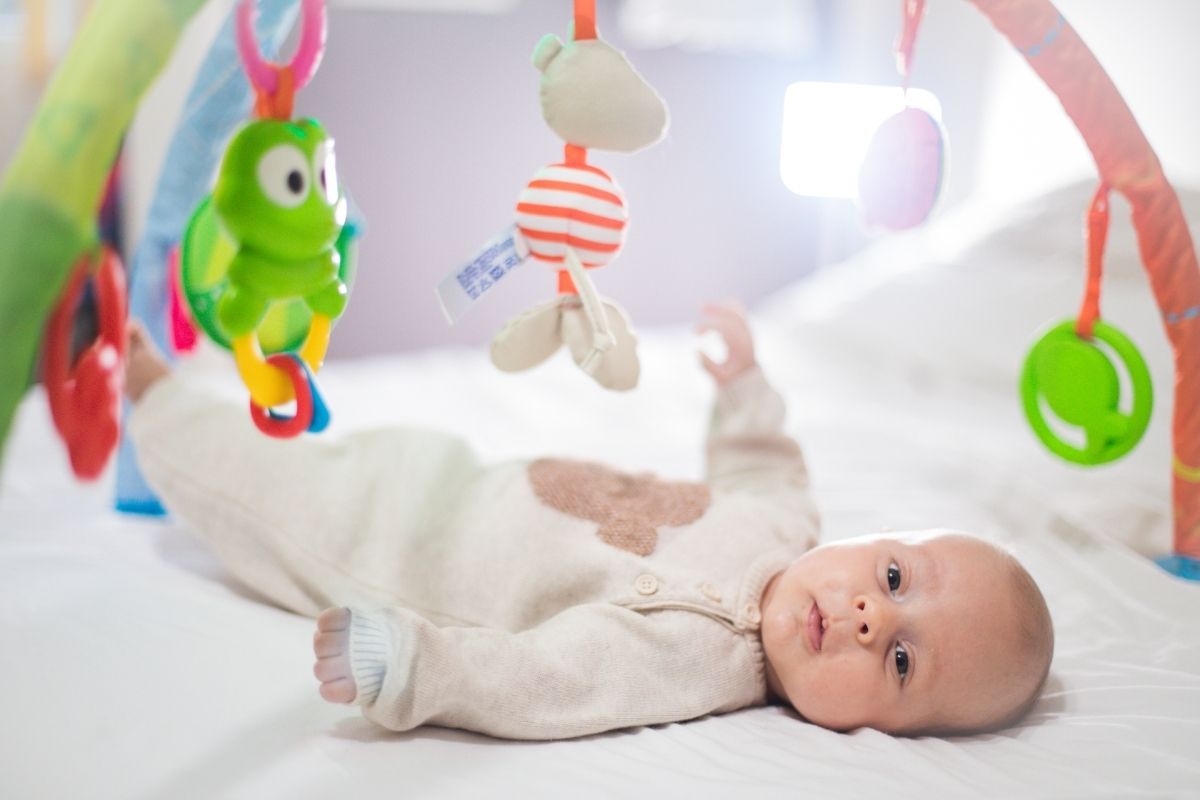 What Is a Baby Gym?
A baby gym is a structure in the shape of an arch (or two) with baby toys, rings, and rattles hanging across.
The toys hang over the baby, letting them reach for the toys hanging from the gym whenever they're in for some play.
Some baby gyms have extra features like sounds and lights that keep the baby entertained when they're playing under the baby gym.
Baby gyms aren't just entertainment tools for babies, they're an important part of the development of a baby.
You can get a baby gym for a baby of any age, but they can only start reaching up to the toys and playing with them from around three to four months of age.
There are many developmental benefits to a baby gym that you may not want to miss out on.
Over the next few paragraphs, I'll show you some of the benefits of getting a baby gym for your baby and some important components of the perfect baby gym.
Advantages of a Baby Gym
Before buying any item for your baby, you should weigh the benefits against the potential disadvantages to see which one outweighs the other.
If you don't do that, you will keep buying every item that looks enticing on Amazon, leaving you with a truckload of baby items, most of which you'll never use.
The case of a baby gym shouldn't be an exception. If you're thinking about buying a baby gym, you should take a look at the following benefits of getting one to see if it's worth your money.
Improves their grabbing skills
Babies grab things instinctively. At a very young age, they're unable to control when or what they grab, as they reach out and grasp for things reflexively.
This action continues for some time until they grow older when they start learning to reach out for things voluntarily.
A baby gym helps to speed up this process. With the toys hanging above them, they will be inclined to touch them, putting the part of their brain that controls voluntary actions to work.
If a baby uses play gyms regularly, they should learn how to reach out for things and grab them faster than a baby that doesn't.
The benefit of a baby gym in training babies to hold things voluntarily rather than reflexively contributes to how the setup got its iconic name.
In addition to reaching out for, and grabbing an item, using a baby gym also helps babies learn to hold items properly without dropping since they hold the toys after learning to grab them.
Improves hand-eye coordination
One of the best ways to help your baby develop better hand-to-eye coordination is by getting them a baby gym.
By trying to reach out and hold the toys, they develop skills that let them use their eyes to direct their hands to perform tasks.
When babies engage in exercises that actively develop their hand-eye coordination, they'll grow up to be generally better than the average kid in sports and other dexterous activities.
Also, better hand-eye coordination will help your baby cross the midline early. Crossing the midline refers to the step where a baby can effectively control a hand on an opposing side of their body.
While this step sounds simple, it's a very complicated period in development. Crossing the midline will enable your baby to reach for objects with both hands, leading to a string of continuous motor developments.
Helps your baby get some tummy time
If you get a baby gym with a soft cushion, you can use the mat on your baby gym for tummy time, while using the gym itself as a visual stimulation during the exercise.
By doing this, you don't need to invest in anything else to get a decent tummy time kit.
Before using the gym as a tummy time kit, you must detach the cushion from the gym and place it some centimeters away from your baby.
Since baby gyms are usually very easy to clean, you'll also benefit from using them for your baby's tummy time.
Also, using the same kit to help your child train to cross the midline and also strengthen their muscles feels like you're getting too much value for your money.
Helps their visual perception and self-awareness
Babies can't see more than a few centimeters away. They can only see objects clearly when they're not further than 30 to 40 centimeters away.
At this stage, they like seeing faces and contrasting colors, which is what baby gyms strive to provide.
Some baby gyms include baby-safe mirrors, allowing them to see reflections of themselves. This doesn't only improve their visual perception but also speeds up self-awareness and recognition.
To maximize this advantage, avoid hanging the toys directly above your baby. Instead, try hanging them closer to the sides of the arches, as this will encourage your baby to look sideways to see them.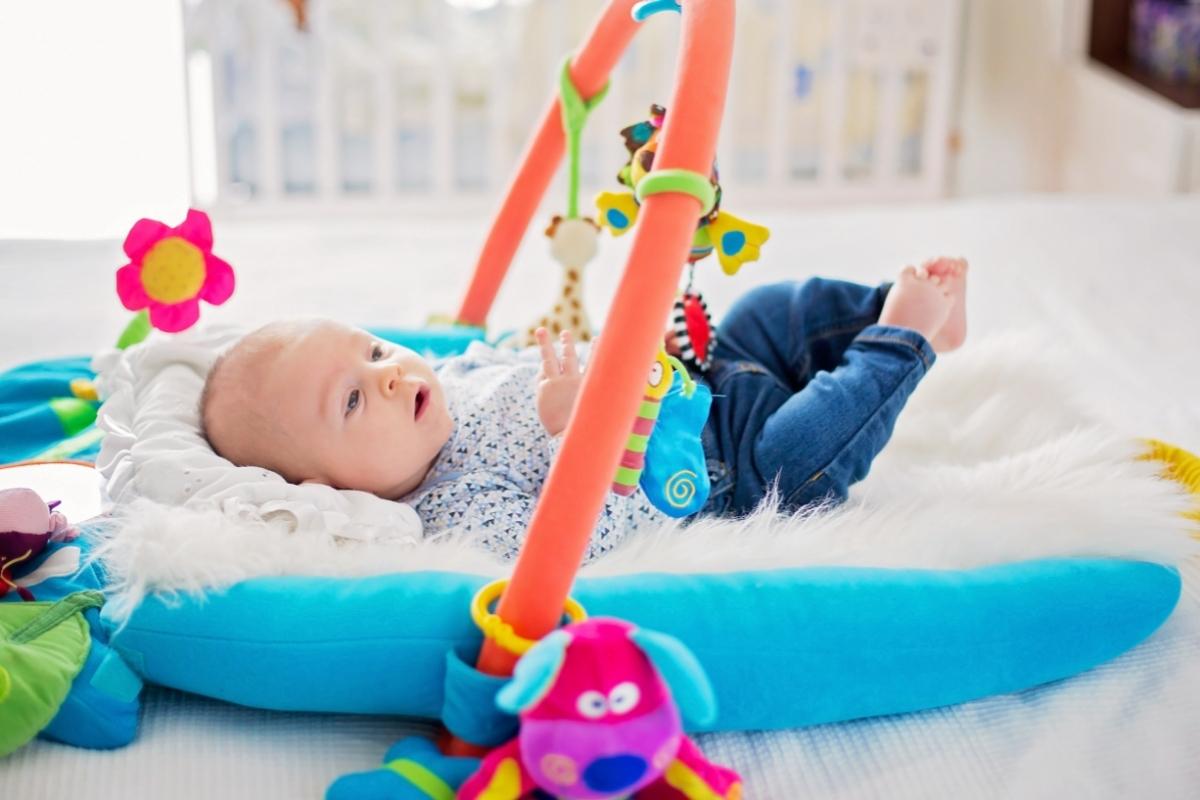 How to Choose a Baby Gym
If you've decided that a baby gym is a right choice for your baby, there is something else you should know.
All baby gyms aren't created equally, and you must choose a high-quality, feature-rich baby gym to get all the advantages listed above.
If it's your first time buying one, it's okay to not be able to recognize a feature-rich baby gym. Here are some of the features you should look out for to help you choose the best baby gym on the market.
A Flat surface for the baby gym
One of the primary functions of a baby gym is to help develop your baby's motor skills, enhancing their movement in the long run.
This is only achievable on a baby gym that lies flat on the floor; buying one with a baby lounger, activity chair, or other unnatural surfaces will actively restrict your baby's movement.
When buying a baby gym, go for a free-standing one, or one with a flat surface. Anything higher than this, and you may be preventing your baby from moving to its fullest potential.
Also, you want to make sure the surface is detachable and easy to clean. With a flat surface, you can use the baby gym as the perfect tool for tummy time, while using the arch as a subject of interest.
Choosing the toys on the baby gym
Another important factor to consider when choosing is the toys and their placement. One thing to keep in mind when shopping for a gym for your baby is that you're buying it for the baby, and not for you.
Therefore, before making any purchase, you should confirm that the toys are arranged in a position that will be more endearing to the baby than to anyone else in the room.
Many budget baby gyms in the market position the toys to be attractive to adults around since they're the ones making the purchase.
When you try to imagine the view from the baby's point of view (from under the gym), you'll notice that it would be pretty bland.
Also, you may want to choose one with removable toys for the opportunity to change things up whenever you want.
You can replace the toys or reduce them if you feel they're too distracting for your baby to focus.
Contrasting colors
Heavily contrasting colors catch the attention of most babies. Since you want your baby to focus on the baby gym, try choosing one with toys that have contrasting colors.
Some colors with high contrast include black and white, blue and yellow, red and green, etc. Some contrasts are subtler than others, while the ones mentioned above are the most distracting.
You can change the colors to ones with subtler colors as your child develops, but that's only possible if you chose a baby gym with removable and swappable toys in the first place.
Check for hazards
The toys in your baby's gym should be free of any toxicity or hazards. If you've ever dealt with babies, you should already know that they always try to put everything they hold into their mouths.
You don't want your baby eating something that can potentially be bad for them.
Since baby gyms can also contain small toys, some of these toys your baby may end up swallowing.
Before buying a baby gym for your baby, you should check to confirm that it's free of toys that are too small and that your baby can safely use it with limited supervision.
Sources