Baby play mats look beautiful and make a colorful room that seems to appeal to many kids. However, they still compete with hundreds of toys and materials that you'd want for your baby. In this ocean of competition,
Is Buying Your Baby A Play Mat Worth It?
Baby play mats are certainly nice to have for your baby's playroom, but it's by no means necessary. It doesn't offer any specific functionality, apart from being a more attractive and warm surface.
If you can afford a baby play mat comfortably, it makes a great addition to your home, but it's unnecessary otherwise.
This article will be a comprehensive guide to baby play mats. Firstly, we'll point out a scenario where you'll be needing playmats, and I'll show you some of the things to look out for in a perfect play mat for your baby.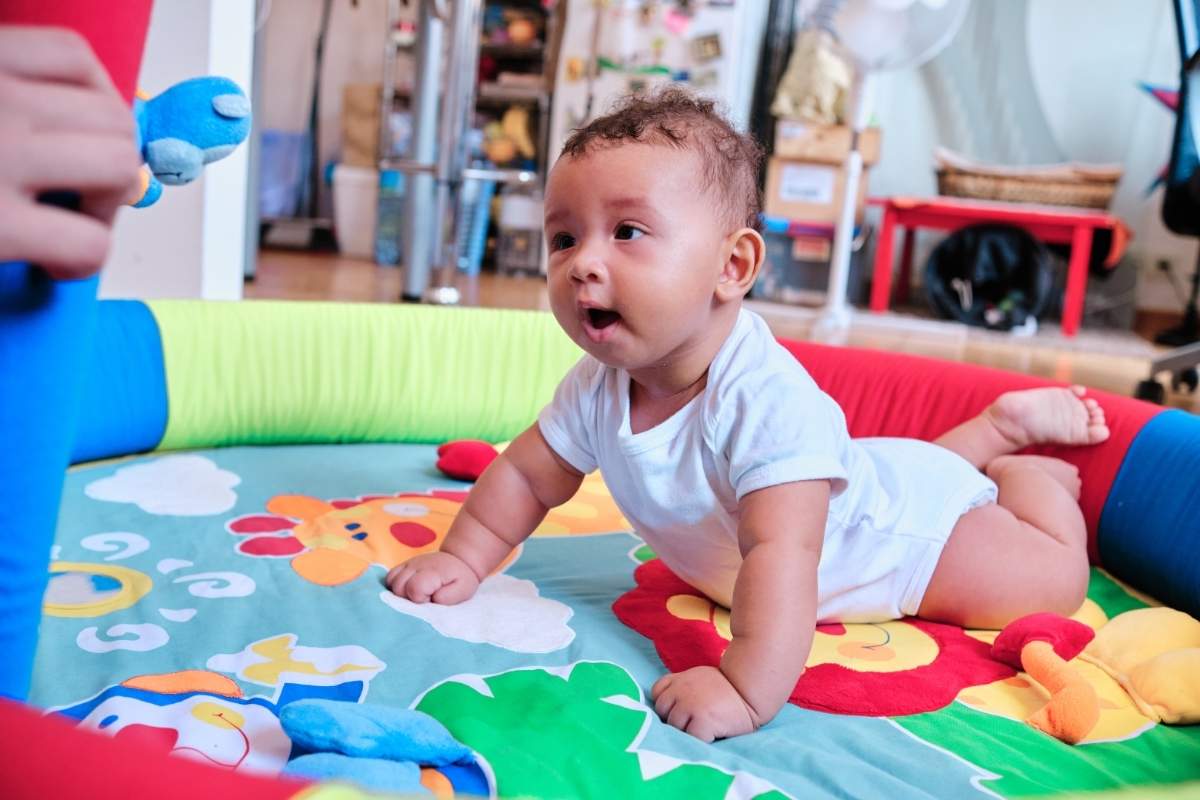 What Is a Baby Play Mat?
A playmat is a colorful soft surface for babies to play on. While some play mats come with extra features like baby play gyms, those aren't necessary.
If the surface is soft enough for a baby to crawl and play safely, it qualifies as a play mat.
Playmats are usually inexpensive compared to other baby items, but they aren't necessary additions to a baby's play area.
There are blankets and soft surfaces that serve as perfect play mats for a baby without costing nearly as much as a standard play mat.
If you can afford them, however, they are nice-to-haves. Playmats are typically designed to absorb the impact of falls, which happens quite often during baby plays.
They also make excellent surfaces for tummy time and are friendlier for babies learning how to crawl.
Most playmats feature additional accessories like baby play gyms and toys. While these playmats are usually more expensive. You don't have to buy expensive baby toys or play gyms once you buy them, which can be cost-effective if you didn't go for an ultra-expensive play mat.
When Do You Need a Baby Play Mat?
Some people get a playmat for their babies from birth. However, they can't start harnessing the full potential of a play mat until around three to four months, when they start reaching out to grab and play with toys.
Consequently, the optimum time for getting a play mat for your baby is when they're three or four months old since that's when they start to spend a considerable amount of time on the floor.
However, there is a case for buying a play mat for your baby much sooner. Baby mats will help manage the effects of falls, which can happen even before the baby "crosses the midline."
Benefits of Getting a Baby Play Mat
Baby play mats get a lot of criticism for being useless and just a waste of money. However, this is not the case because nobody will buy a playmat if it's useless.
Here are some arguments to justify your purchase of a baby play mat, and if you haven't bought one already, the following benefits may convince you to click on the "checkout" button.
It helps babies develop motor skills.
This is quite an obvious advantage of a baby play mat. Most mums buy a baby play mat for their babies to provide a safe spot for crawling.
When babies crawl, they develop and strengthen their muscles, readying them for their first step.
If you're buying a play mat for your baby, you're directly helping them develop their motor skills. When babies build strong muscles early on, they develop excellent sitting and walking postures.
Improves hand-eye coordination
If you purchased a baby play mat with additional toys or a baby gym, it will help your baby train their hands to work in conjunction with their eyes.
While this sounds quite simple, it's one of the most important steps in development, preceding midline crossing.
This advantage will only apply if you help the baby engage in exercises that improve their hand-eye coordination. This will make them more dexterous in the long run, leading to excellence in sports and athletics.
If you'll be adding toys to your baby's play mat, it's important to consider the materials used in manufacturing the toys. Since babies like putting things into their mouths.
They're safer surfaces for playing and crawling.
Baby play mats are designed to absorb impact from falls, making them the best surface for playing.
The soft and smooth surfaces also make them painless and interesting surfaces for crawls. Don't take my word for it, try crawling on one yourself.
With illustrations of animals and different letters on the mat, babies will always have a crawl target which is a good play to improve their depth perception.
When babies start to stand and walk around, the soft surface of the playmat provides a more forgiving surface that absorbs the impact of their falls.
The surface of the baby play mat is clearer of hazardous substances, as the color contrast makes it easier to spot hazards.
They're very portable.
While you can simply make the surface of the entire house kid-friendly, you can't take your house with you on a vacation or to a friend's.
In addition to all of the advantages of a baby mat, they're also very portable, making them no-brainers for moms that are constantly on the move.
If you're never on the move, however, investing in baby playmats isn't very economical. As long as your home's surface is kid-friendly, you shouldn't run into any problems that a play mat can solve otherwise.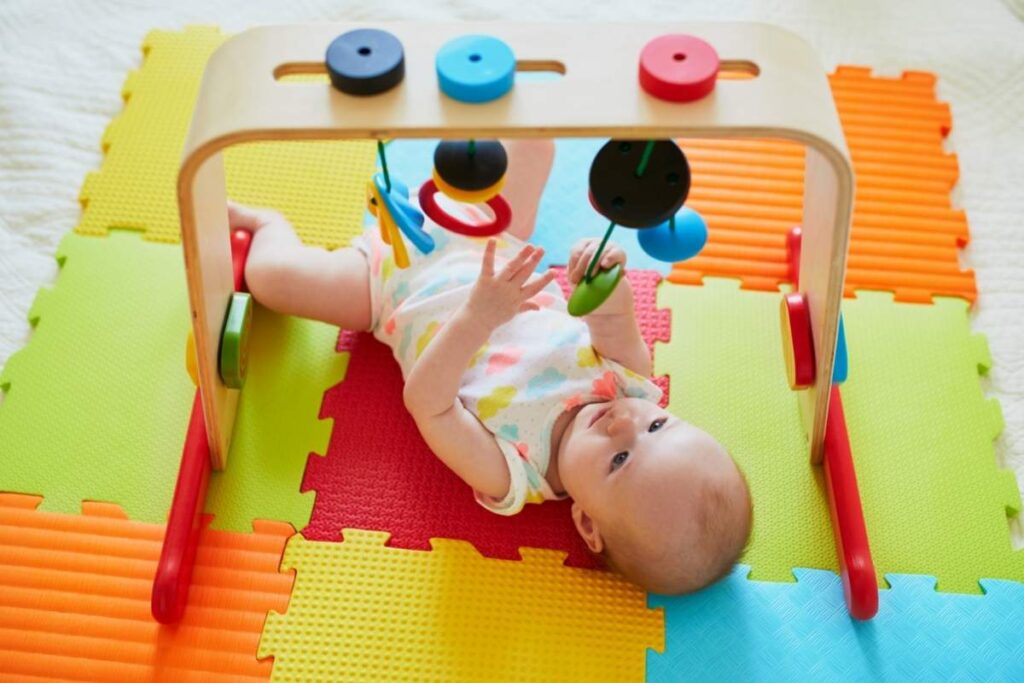 How to Choose the Best Play Mat for Your Baby
When choosing a play mat for your baby, there are many factors to consider to ensure that you're making the right investment.
These factors will help you make sure you're striking the right balance between functionality, safety, and cost-effectiveness.
Manufacturing materials
The first thing to check in any play mat before making a purchase is the nature of the material used in the purchase.
Your baby will be spending almost all of their time on the playmat and you can't afford to expose them to bad materials.
Most baby playmats are either made from PVC or EVA. PVC means Polyvinyl Chloride and is the material used in making most waterproof baby play mats.
While PVC is the third most popular synthetic polymer, it is also one of the most toxic plastics. If there are no play mats in other materials, it's generally safer to stay away from buying a baby play mat altogether.
A safer alternative to PVC is TPU (Thermoplastic Polyurethane). While TPU is not completely free of toxins, it's much safer than PVC and is one of the best materials in which you can get a baby play mat.
Before buying any play mat, one of the most basic checks is to ensure that it's free of PVC and BPA first. Then, you can check for other factors which are mostly optional down the lane.
Portability
One of the main advantages a baby play mat has over natural surfaces is portability. While you can easily fold up your baby's play mat and carry it with you on vacation or to a friend's, which is usually not possible with your home's surface.
This makes portability almost a requirement with baby play mats. If you can't easily roll up your baby play mat to clean them or transport them, that's defeating one of the basic purposes of the item.
You should also check if the playmat is open to customization. Some expand or contract, depending on the size of the baby's playroom and others let you add some extra toys to reimagine the mat's surface.
Extra Functionality
While a play mat is good, it's really hard to justify buying only a play mat when you can buy a playmat that comes with a baby gym and many extra toys.
If you'll be paying extra for a special surface for your baby to play with, why not make the most out of your investment?
You should look for playmats that are extendable to make them feasible for use as your child grows.
Getting a baby gym as part of the package also sounds nice. If you can't get that, you can manually buy and add it, but that will cost you even more.
Aesthetics and ease of cleaning
Both of these go hand in hand, but they're pretty different. A baby play mat shouldn't be bland; it should have figures of animals and letters to attract your baby to play on it.
Also, you may want to ensure that it's relatively easy to clean. There are many waterproof baby play mats on the market today.
Before buying a waterproof play mat, however, you should check to see if it's made from one of the recommended materials.
If you can get a waterproof play mat made with non-toxic materials, cleaning will be a joy. Since liquid stains won't penetrate the mat, you only need to wipe out the stains and leave them to dry.