Babies are more comfortable when the environment is fun, and how can you make their environment more fun? With a few different playthings, including a new baby swing, most babies will love it (so will their parents). But swings usually don't come cheap. So…
Here Is Why Baby Swings Are Worth it:
Baby swings are worth it because they make life easier for you and your infant. If you move past the fact that your child might outgrow a swing quickly, you'll realize that a swing can save busy mums some rocking time which can be spent on other things.
They even come with music and other toys to keep your baby entertained and happy and could be easily moved from one room to another.
I've explained the possible reasons why a baby swing might be a good investment here. But then, there are a number of factors that may or may not make these swings worth your buck, and I've highlighted them too.
Read on to learn what to consider before swing shopping for your baby.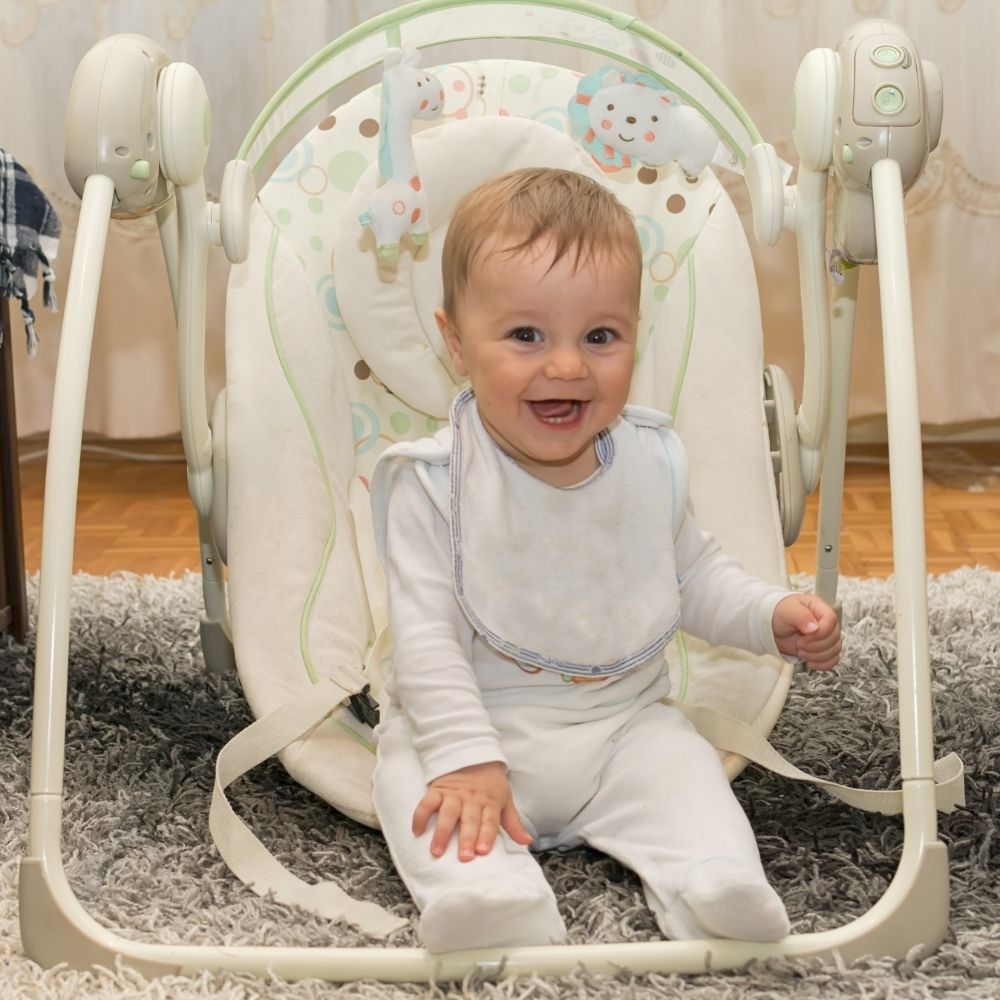 What Are Baby Swings?
Just like the swings at the park, baby swings are play equipment that swings your baby back and forth. It is one of the baby items that will really make the life of you and your baby easier.
These baby swings come in lots of different designs and colors and could be placed in various positions. 
The beauty of this equipment is that they swing in different directions and at different speeds and can be placed in different positions.
They even come with music and other toys to keep your baby entertained and happy and could be easily moved from one room to another.
Are Baby Swings Worth It?
If I were to judge from my experience with baby swings, I'd tell you they are worth it. Because a baby loves to be rocked, It's an easy way to relax your baby or help it sleep.
Most swings come with an electric motor that does the rocking for you so that you can work or do something else while your baby can enjoy swinging.
There are different kinds of baby swings, You'll also find ones that have hanging toys, ones that have light-up toys, ones that have music, etc. There are enough options to suit your taste.
My baby loves hanging toys, so I think it's worth it to buy one that has that feature. I can't say if it works for every baby, but it seems to work for him.
Also, I'm a working mom, and I have to have my son do some sort of thing while I work, and this seems like it's the safest one to me.
Are Baby Swings Expensive?
These baby swings can come in a wide range of prices depending on the brand, the quality, and the features.
For an excellent quality baby swing, you can expect to pay anywhere from $100 to $200. In my opinion, that's a reasonable price to pay for a product that is going to provide a lot of relaxation and comfort to a baby.
You also need to keep in mind that a baby swing is going to be a product that your baby will use for a long time. If you go with a cheaper model, you might find that the cushions are a lot thinner and your baby won't be as comfortable as in a more expensive model.
Or the materials used won't be of high quality. In that case, for instance, you have a higher chance of the automatic rocking motor breaking and you have to replace it before too long.
So if you can afford to pay a few extra bucks for a better quality product, you're going to be saving yourself money in the long run.
A commonly heard phrase is "you get what you pay for." and that is exactly how it is with baby swings. Some are very expensive and come with a warranty, while some are very cheap and still do the job.  
Baby swings aren't completely necessary, but they can be very useful for parents who need to leave their little bundle of joy in one place.
The swings can be attached to a chair in your home, and they can help keep your baby calm and happy while you take care of chores or do your job. There are hundreds of different swings on the market to suit your space.
If you're on a tight budget, you might want to consider buying a used swing at a consignment shop. The good news is that no matter what your budget is, there are baby swings to meet it.
If your baby grows really fast, you may wonder, why spend $100+ on a swing that your baby will only use for a month or two? If you'd rather not buy a swing, just get a $20-$30 pack n' play that has an inclined setting for your infant, and you'll be just fine. Most babies settle into a schedule between 3 and 4 months and enjoy sleeping through the night.
If your baby is older than that, I'd invest in a larger swing, but not necessarily a real swing. A rocking chair or glider would probably do the trick for your little one.
What Should I Consider When Choosing a Baby Swing?
Choosing the right baby swing for your child is not very easy, especially if you are a first-time parent. It is recommended to check baby swing reviews before buying.
Also, you need to consider the baby's age and the space in your home to find the best baby swing.
Consider the size of the swing. Smaller swings are meant for infants, while larger swings can accommodate up to 40 pounds.
Another thing to consider is your baby's favorite activities. For instance, if your baby enjoys being rocked by its parents, he'll probably love the motion of a baby swing.
Is a Swing or a Bouncer Better For a Baby?
A swing is more fun, but you can opt for a bouncer if that's what you prefer. A bouncer should only be used to sleep, not play.
A swing should be used while you are away or busy. Babies are more comfortable in a bouncer when they are asleep, but they can get more fun out of a swing while they are awake. 
Depending on the manufacturer's recommendations, a bouncer can be used from 10 to 14 weeks of age. It should not be used for babies younger than 8 weeks.
Also, it should not be used as a primary sleeping place for a baby; it should be used as a place to put a baby when you need a break.
Swings appear to be the most effective method of calming the majority of infants. Many fussy newborns are soothed by the steady movement, whether it's back and forth, side to side, or a combination of all three.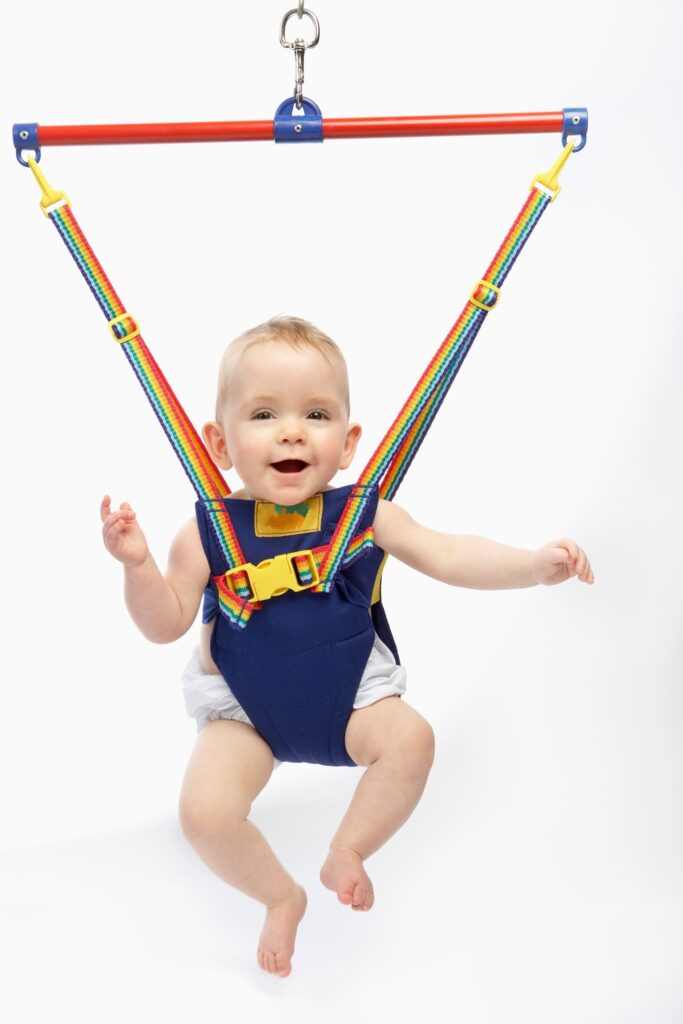 What Are The Best Alternatives to Baby Swings?
People who don't want to get a baby swing often opt for bounces. However, there are other alternatives that you can try.  You can always purchase a stroller, baby-bouncer, or a baby play-seat. 
The last two are similar to baby swings but smaller, lighter, and more compact. As an added bonus, you can take them with you anywhere you travel
Strollers are the best for babies if you spend more time outdoors because babies can see the world around them and interact with it. Moreover, strollers help the parents keep the baby close to them.
How to Select the Right Baby Swing
Before you buy any baby swing, you should be clear on what you need. Below are vital tips to note before making a pick.
Baby swings are quite expensive, so you should think of purchasing a swing that you really like for your baby. 
Many baby swings can be bulky. You should think of purchasing one that you can carry from one place to another with ease. 
With babies, cleanliness is everything. Because swings are made of various materials, some are easier to maintain than others. You should think of buying a baby swing that is easy to clean. 
Never opt for a swing that your child won't be comfortable in. Where it's for play or relaxation, you should think of purchasing a baby swing that provides your baby with good rest.
What's a swing without fun? You should think of purchasing a baby swing that provides your baby with fun music, dangling toys, and extra features.
 If you follow the points mentioned above, you will be able to buy the best baby swing for your baby.
Can I Get Baby Swings for Smaller Space?
Currently, most baby swings are not designed for smaller spaces, but there are exceptions. For example, some brands specifically design baby swings for smaller rooms like workspaces.
However, most other options are bulky with large motors and thus harder to fit in a small space.
It all depends on how much money you are willing to spend and the brand you choose to purchase. But there is one thing I would like to note. Any baby swing that you buy should be able to function on batteries, and that way, you will be able to take it with you when you are traveling.
In case you have no plans of traveling with your baby swing, you can opt for anything that fits your space and gets the job done. The goal is to provide your little one with as much comfort as a swing can possibly offer.