Deciding to buy an activity mat is one thing, and choosing the best one for your baby is another. With so many activity mats on the market, all competing for some dollars on your balance, it's easy to make the wrong choice. But what are the best baby activity mats for babies in 2021?
There are lots of baby activity mats on the market, and the best one for you depends mostly on your budget and a host of other factors. To pick the best baby activity mat, you must consider if it contains extras like toys or music and if it's easy to clean.
In this article, you'll learn more about baby activity mats and why you need one for your baby. Then, you'll get a list of some of the best activity mats for your baby, regardless of your budget and style preferences.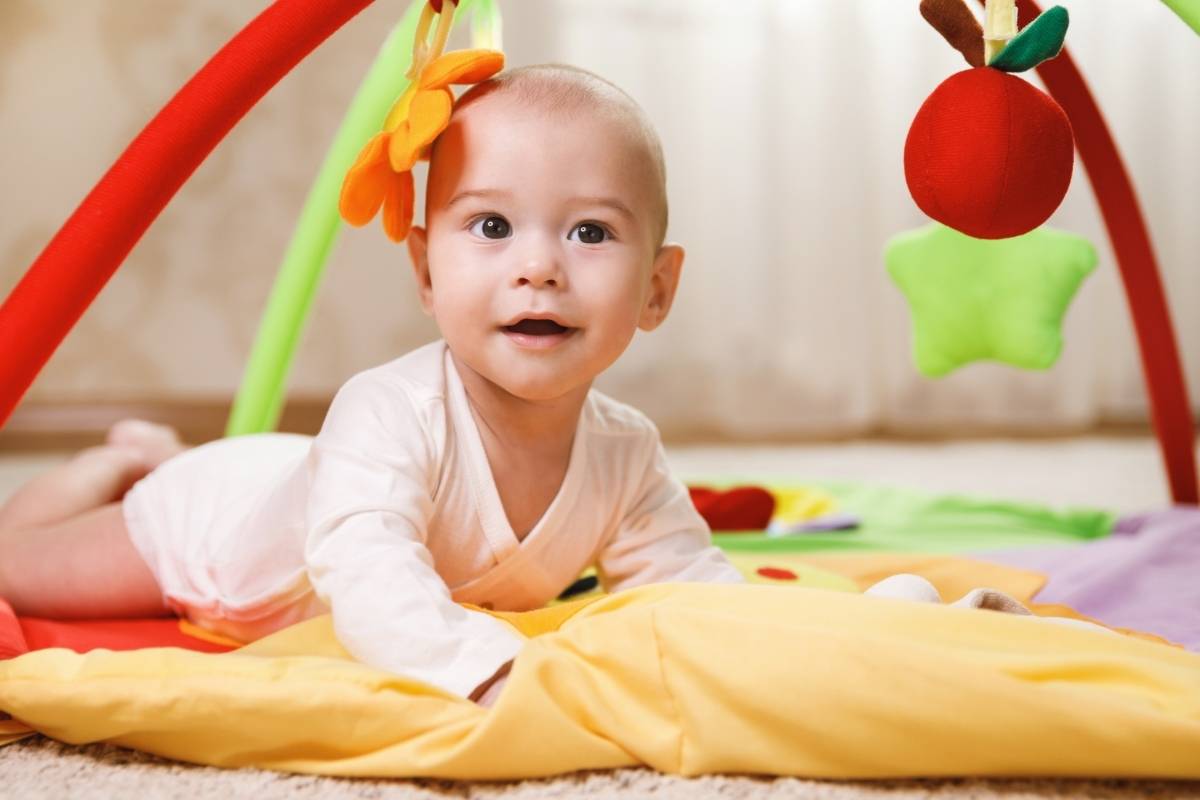 What Is a Baby Activity Mat?
Most home surfaces aren't optimized for toddlers learning to walk. They fall pretty often, and they crawl on their knees, making the rough surface of the home too harsh for them.
Baby activity mats solve this issue. They provide a soft and smooth surface for babies to perform all their activities without any risk of injury or impactful fall. The surface of most activity mats is designed to absorb the impact of falls, making them perfect for toddlers learning to walk.
Most activity mats feature interesting colors, figures, and shapes for your baby's visual stimulation, helping them perform activities on the mat. Some even come with baby play gyms equipped with toys to help them play productively. Your baby can start using an activity mat early on until there is no more need for it.
While baby activity mats are nice additions to your baby's playroom, they're not a necessary addition. If you've decided to get one, there is also the question of when you should buy one and the best baby activity mat for your baby.
In this article, you'll get an answer to all of the lingering questions you might have about baby activity mats to help you get the best value for your money and the best mat for your baby.
Why Do You Need an Activity Mat?
Due to some partially accurate information peddled around most blogs, most mums have convinced themselves that they don't need an activity mat. While you may not need an activity mat, your baby will want it if they could only make a choice.
There are so many convenience and safety benefits of getting an activity mat that it should be required of every baby. If you're not so convinced, here are some of the reasons why you should always get an activity mat for your baby.
Safety and convenience
Everyone, including the babies themselves, want babies to walk as soon as possible. However, there are some sacrifices to make before the baby eventually becomes a proficient walker, and a prominent one is a baby falling continuously.
While you can't stop the falls from happening, you can stop the falls from making as much impact as they should. The best way to mitigate the impact of these falls is by using a surface that absorbs the impact of the falls, and an activity mat is an excellent option.
If you're equipping your baby's activity mat with toys, you should ensure that they're all for babies, as toys with small parts could present in your baby swallowing them.
Develops hand-eye coordination
One of the major functions of activity mats for babies is to help them exercise their minds to improve their hand-eye coordination. Hand-eye coordination is a process in a baby's development when they learn to make their hands work in conjunction with their eyes.
The first step to improving hand-eye coordination is by improving their visual perception. Since the colors on an activity mat stimulate a baby's visual senses, they're motivated to focus on them, helping to develop their visual sensing skills.
Over time, the baby will start trying to reach out and grab toys on the mat. This action essentially asks their hands to reach for items their eyes are focusing on, improving hand-eye coordination.
Cognitive development
Using activity mats will help improve your baby's cognitive skills by teaching them the basics of cause and effect. The mats are designed to have many consequential actions which your baby may discover accidentally.
Some activity mats are built to have audio responses to your baby's actions. Once your baby discovers that they can create a sound by doing a specific activity, they'll try to repeat it, passively developing their cognitive skills.
How to Choose the Best Baby Activity Mat
While you'll get many recommendations of the best activity mats for your baby, you don't need them. If you can simply learn how to spot the best ones, you can buy them independently while getting the best value for money on your purchase.
Before getting an activity mat for your baby, try checking what extra things you can do with it. Some mats come with a baby gym or some baby toys out of the box. Buying the combo will always be more cost-effective than buying them separately for obvious reasons.
If you're constantly on the go, you should try getting an activity mat that's designed to be portable. Your baby must almost always be on the mat to get the full benefits, and having to leave it behind during every trip is certainly a disadvantage.
You also want a mat that's fairly easy to clean. Babies are messy, and you'll have to clean their mats pretty often. Waterproof mats are typically the easiest to clean because dirt can't penetrate them in the first place.
What are the Best Baby Activity Mats?
With the guide to choosing an activity mat for your baby, you wouldn't need a list. But that's if you have the time to compare options to analyze the features, and frankly, most people don't, especially mums with a baby to care for.
To help you choose a mat even when you're busy, here are some of the best activity mats you can get for your baby across various categories.
Bright Starts Tummy Time Prop & Play Mat
Activity mats are made for a wide range of uses, and tummy time appears to be one of the most important. To get how important tummy time is, there are activity mats specifically designed for it, and this is a perfect mat for tummy time.
Unless you're buying the mat specifically for tummy time, this mat won't be the best option. It's built to provide the best tummy time experience at the detriment of other features that may be deal-breakers for you.
This mat comes with a prop pillow, a mirror, and some toys out of the box, but you can't attach a toy gym to it as it lacks the space for an independent toy arch. On the plus side, it's one of the most compact activity mats for kids, measuring just 36 x 32.5 x 5 inches.
Wee Gallery Explore Organic Playmat
Kids love contrasting colors, and there are no two colors with more contrast than black and white. In this respect, Wee Gallery's organic activity mat is designed in these colors to stimulate your baby's visual senses.
Measuring 40" x 40", this activity mat comes at a larger size than Bright Starts Tummy Time mat. It's also built for portability, even coming with a drawstring bag that simplifies carrying and transporting the bag.
Made from organic voile, this activity mat is also machine washable but doesn't contain come with any toys out of the box. However, you can buy and attach a baby gym if you want a haven of toys.
Skip Hop Interlocking Foam Floor Play Mat
If you're looking for an activity mat that can easily accommodate two babies at once, this should be one of your top choices. While it can't exactly be described as cheap, it's one of the largest activity mats that don't look boring.
While this activity mat doesn't have any lights, sounds, or toys, it still manages to arrest the attention of babies due to its excellent design. Measuring at over 70" x 56", there isn't much to complain about this mat, other than the fact that it's not machine washable.
If the out-of-the-box size appears too big for you, you can modify it to fit your baby's play area. The mat contains 50 individual foam tiles, and you can use just as much as you want to create the perfectly sized activity mat for your baby.
Fisher-Price Deluxe Kick and Play Piano Gym
If you want the most elaborate activity mat for your baby, the Fisher-Price Deluxe is undoubtedly the best option for you. Unlike most other alternatives, this activity mat comes with a piano keyboard with lights out of the box and is a giant play gym per se.
This activity mat is best for a baby's cognitive development, but that's if you speak English. With its plethora of amazing features, the Fisher-Price Deluxe is only available in the English language, and it requires four AA-sized batteries to work to its fullest potential.
Measuring at 36 x 27 x 28 inches, this is about an average-sized mat. If the language barrier doesn't matter to you, there isn't anything more to hate about this baby activity mat.
Sources: