If you're looking for a store to purchase swaddles for your baby, ErgoPouch and Love to Dream are two of the most compelling options. With their level of experience and unmatched quality of products, those are the only options you have. However, which of these companies make better swaddles for babies?
Love to Dream and ergoPouch have both manufactured quality baby sleeping bags for more than a decade, and none is better than the other. However, you may have a preference based on cost, so you should always gravitate towards the store with better sales deals.
In this article, you'll learn all you need to know about the two companies and most of their offerings. Then, you'll learn which of them offers the best value for your money to decide on where to make your purchases.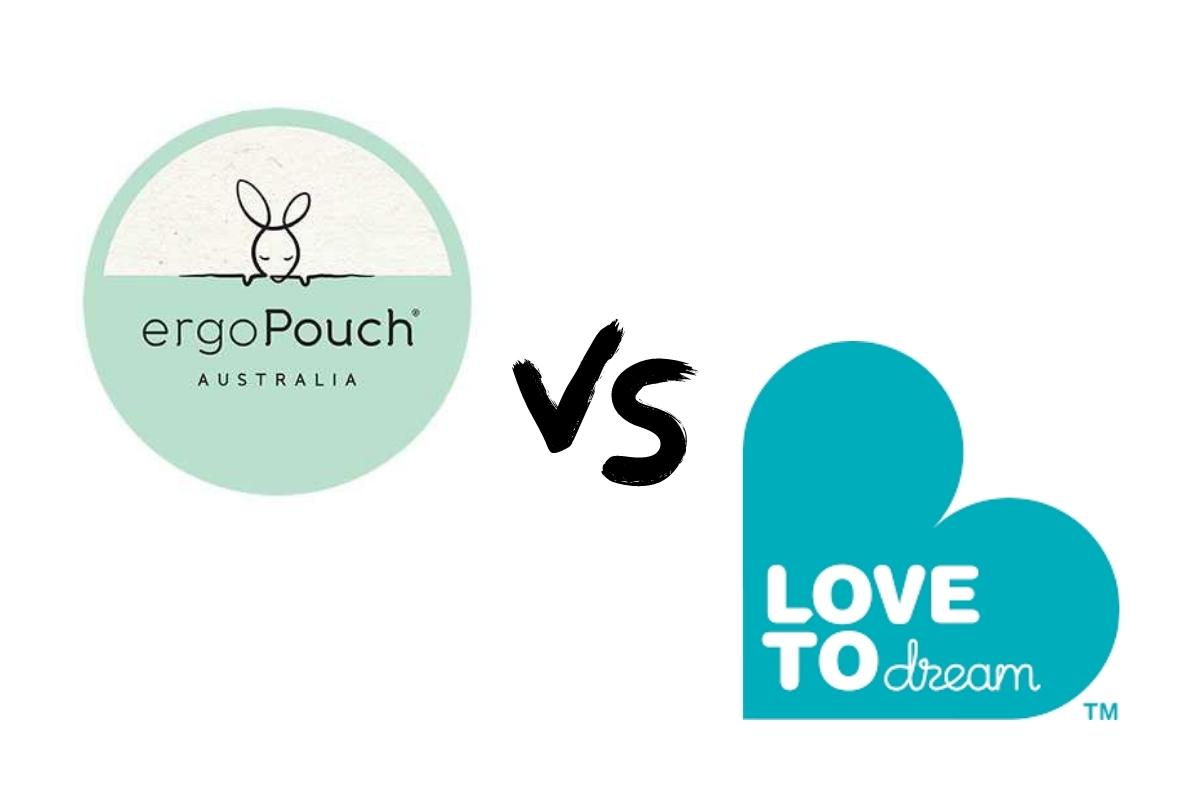 If you wonder how Love To Dream matches up against another brand, I wrote an article about Love to Dream vs ErgoCocoon
What Is ErgoPouch?
ErgoPouch is an Australian-based company founded by Alina Sack in 2009. Alina Sack was a "sleep-deprived" mom who created a special sleeping bag to help her first son who had challenges with sleep. She would later go on to manufacture these bags at a high scale under the ergoPouch brand name.
According to her story, the initial attempt worked. It did because otherwise, we wouldn't have the amazing selection of ergoPouch products on the market today.
Ever since then, ergoPouch has grown to sell millions of sleeping bags across Australia and around the world, and their products are sold in more than 20 different countries right now.
ErgoPouch seems to value TOG (Thermal Overall Grade) ratings, as their selection of products has some of the most flexible TOGs that exist in any swaddles available on the market. They also have a dedicated page about TOGs on their website, and you'll learn why it matters so much soon.
ErgoPouch sells products that help babies and older kids sleep. Although Alina Sack started by creating a special sleeping bag for babies, they've expanded and you can now buy sleep aid equipment for your kids up until they clock six.
The most popular product from ErgoPouch is the ergo Cocoon, which is the modern result of Alina Sack's initial invention. While ergoPouch sells other products for kids of various ages, their ergoPouch is so popular that it has almost become synonymous with the company.
What Is The ErgoCocoon?
The ergoCocoon is ergoPouch's flagship product, and it represents the best of their collection of ergonomic sleeping pods for your baby. Compared to the competing products from Love to Dream, the ergoCocoon is less limiting and a lot more convenient.
ergoCocoon has multiple layers of fabric, giving it a high TOG rate than most competing products. While this is very advantageous during the winter, it can be a problem during the summer when your baby doesn't need as much warmth.
There are many advantages of ergoCocoon that make it one of the best swaddles on the market right now. Here are some of the reasons why you may want to choose this sleeping bag over competitors.
Convenient two-way zipper
While this is getting increasingly common amongst swaddles, it's still a feature worth mentioning. ergoPouch swaddles can open from two different zips; from the top and the bottom. To change your baby's diapers, you can unzip the corresponding zip without having to remove the entire swaddle.
If this feature is a deal-breaker for you, most swaddles from ergoPouch will work for you. If you've never used a swaddle with two-way zip, however, you should try it; it's at least better than the functionless buttons on most swaddles on the market.
Industry-leading TOG ratings
If there's something ergoPouch excels at, it's manufacturing products that perform excellently during the winter. By using their TOG guide, you can always get the best sleeping bag for your baby depending on the temperature.
In the next section, you'll get some more information about the TOG guide on ergoPouch, and how it can help you choose the best swaddles for your baby.
What Is The TOG Rating On ErgoPouch?
The TOG you see on most ergoPouch products stands for Thermal Overall Grade. It was created in the 1940s to measure the warmth of sleeping items and beddings, especially for bedding. A higher TOG rating indicates a warmer sleeping bag.
Even with that information, it's difficult to determine the perfect TOG for your baby's swaddle for maximum convenience. Fortunately, ergoPouch provides an easy way to determine what TOG sleeping bag you need by following a four-step process.
The first step is getting the average room temperature where your baby sleeps. If the room's temperature is at or below 14 degrees Celsius, you'll need to get ergoPouch's warmest pouches by combining all the swaddles.
Your options vary across different room temperatures, and if your room temperature exceeds 26 degrees Celsius, you'll need their lightest pouch. You can visit ergoPouch's "What to Wear" page to learn more about their recommendations.
If you don't have a thermometer to take your room's temperature, you don't need to buy one. Almost all ergoPouch products come with a thermometer included at no price.
Do you want to know more about TOG rating? I explained it a little more in-depth in this article: Are Baby Sleeping Bags Worth It?
What Is Love To Dream?
Just like ergoPouch, Love to Dream is also an Australian company and they sell sleeping bags for babies and older kids. While Love to Dream may look deceptively similar to ergoPouch, they're different in ways other than one.
Love to Dream came about in almost the same way as ergoPouch. It was established by Hana and her husband in Australia after they struggle for months to put their baby, Elijah, to sleep.
After scores of sleepless nights and months of research, Hana discovered that Elijah slept better when his hands were kept up, as opposed to being wrapped around his body as most people recommend.
In a bid to create a sleeping bag to help Elijah wrap his hands around his body, Hana invented the iconic Swaddle UP. More than a decade later, Love to Dream Swaddle UP has become a household name, almost becoming synonyms with swaddles.
Ever since Hana-Lia Krawchuk founded Love to Dream, it has grown in leaps and bounds, amassing an impressive cabinet of awards as a result of the excellence of the swaddle. Today, Love to Dream serves dozens of countries, selling some of the most outstanding sleeping bags to its customers.
What Is Love To Dream Swaddle Up?
Born out of Hana-Lia's trial and error in 2008, Swaddle Up has grown to become one of the most popular sleeping bags for babies today. With its peculiar design that keeps the baby's arms up, it's just controversial enough to be incredibly popular.
In addition to the limitations on the baby's arms movement, the Swaddle Up is also thinner in the middle, differentiating it from most products on the market. With the sheer number of design peculiarities associated with Swaddle Up, they're difficult to mistake for anything else.
If you're not sure you can trust Love to Dream, try checking out the awards page on their official website. The company has been awarded so much that they need a whole page to list their awards and achievements.
The Swaddle Up from Love to Dream also has some unique benefits. Here are some reasons why you may want to choose Love to Dream's Swaddle Up over ergoCocoon from ergoPouch.
While this is hard to sell as an "advantage," it has way too many fans to be called a controversial feature. Also, the fact that Love to Dream has kept it on their sleeping bags up to this day shows that it's not as hated as the reviews make us think.
The arms-up position refers to the design of the Swaddle Up that positions the baby's position up to their sides permanently. You don't have an option with this; you must keep your baby's hands that way to use Swaddle Up.
While most babies seem to enjoy it, some can't even tolerate it. It's important to know what your baby thinks of Swaddle Up sleeping bags before stuffing your home full of them.
Love To Dream vs. ErgoPouch
Since this is a showdown between two of the best manufacturers of sleeping items for babies, people are naturally expecting an ergoPouch vs. Love to Dream comparison, but the comparison is already almost done.
If you read through the post, you should already know some of the main differences between these two manufacturers. However, you may still be undecided as to which one is the better company.
The truth is, both companies are almost equally good. The ergoCocoon from ergoPouch is excellent for some babies and the Love to Dream Swaddle Up is a lifesaver for others. Your choice boils down mostly to personal preference and the price difference.
If you can get an insanely better deal on a product from Love to Dream, you can go for it, even if there's a competing product that sells for higher on ergoPouch and vice versa.
Typically, ergoPouch offers better prices, and if you can get on a sales deal to offset some part of the price, you'll be getting a price that any manufacturer will find hard to beat. If you're a budget-centric mum, you'll prefer ergoPouch, otherwise, they're both great companies.