That's a question that many pregnant women are asking. And, the answer is: it depends. H&M maternity clothes can be good quality, but there are also some pieces that are not so great. It really depends on the quality of the clothes you're looking for and what you're willing to spend.
Generally, H&M maternity clothes are more affordable than other brands, but they may not be as high in quality and fit as well. If you're looking for something cheap and cheerful, H&M is a good option.
However, if you want something that will last throughout your entire pregnancy, or even more pregnancies you may be better off looking elsewhere.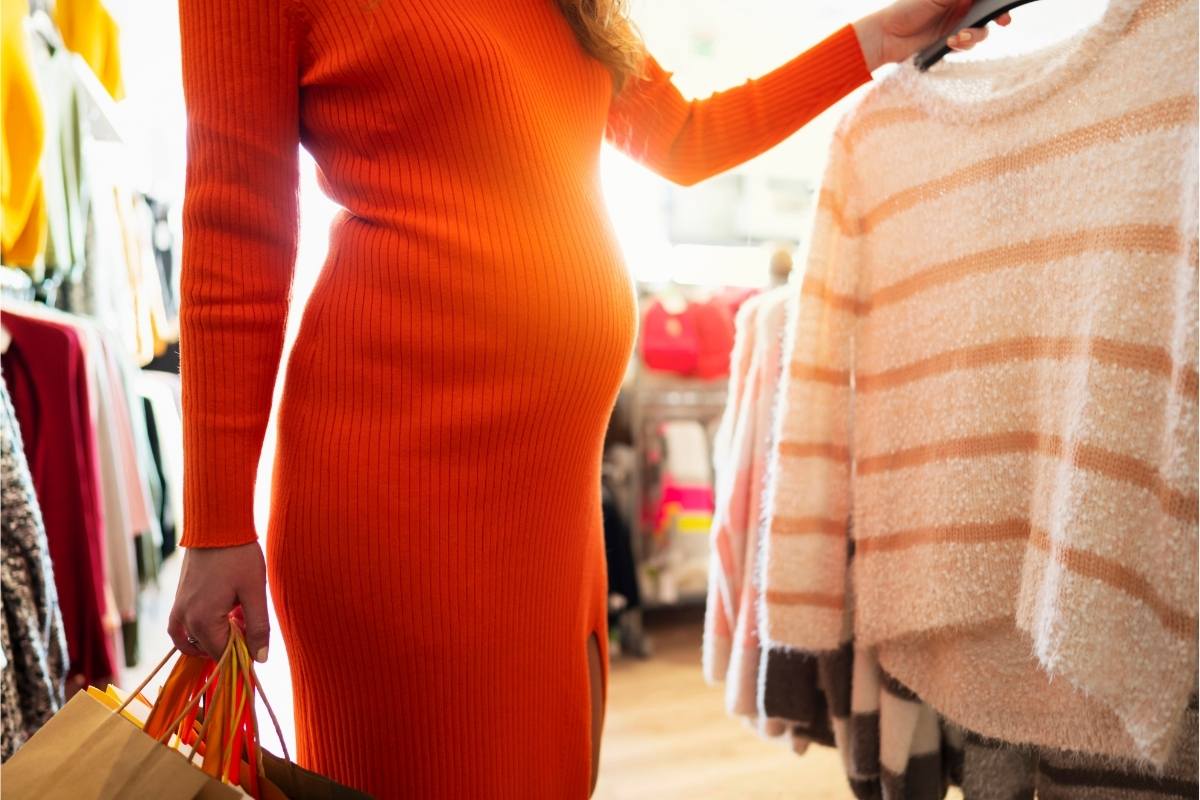 What Materials Are Used For H&M Maternity Clothes?
H&M maternity clothes are generally made of cotton, viscose, and elastane. The best material for these kinds of clothing is the first one (cotton). It's comfortable on your skin and can be easily washed regularly which makes it very practical.
The last two ones on the other hand (elastane and viscose) tend to wear out easily. They don't last very long, especially when it comes to washing them numerous times. If you only use the leggings for one pregnancy this shouldn't be a problem.
Are H&M Maternity Clothes True To Size?
H&M maternity clothes usually fit true to size. However, it's important to keep in mind that their sizes may vary from country to country. So, if you're buying online, make sure to double-check the sizing chart before making your purchase.
Moms over at Baby Center discussed how they thought the sizing of H&M mama clothes are and the opinions differ quite a bit. But most say the clothes run a little bit tighter and some say it fits perfectly. I guess it's best to just go to a store and try something on.
What Colors Are Available In H&M Maternity Clothes?
At the moment, H&M maternity clothes are available in a range of colors like black, white, blue, green, and pink. However, different colors may be available in different parts of the world.
If you want something that is timeless and goes with any outfit, then black or white would be a good option. If you want something more fun and vibrant, then blue or pink would be great.
Are H&M Maternity Leggings Good?
H&M maternity leggings are generally speaking of good quality. These leggings are breathable, comfortable, and easy to move around in. Their price is very affordable for most budgets. However, they are not quite thick enough to wear during colder winter days.
Are H&M Maternity Leggings Good For Working Out?
H&M maternity leggings are not the best option for working out. They tend to lose their shape quickly and can wear down along the legs.
If you're looking for a good pair of maternity workout pants, check out Alex and Ani, Motherhood Maternity, or Old Navy. These brands have workout-maternity leggings that are made of mostly polyester which I haven't found at H&M (yet).
How Tight Should Maternity Leggings Be?
Maternity leggings should be tight but not too tight. If they are too tight, you can't move around properly and you will feel uncomfortable during your workout or throughout the day.
You don't have to worry about your baby when wearing tight leggings(to a certain point of course.), just make sure that the leggings are not digging into your skin too much.
If your pants are too loose, then there is a tendency that they may slide down and you have to keep pulling them up all day and they just won't fit comfortably. So finding the right size is key for this kind of clothing.
Are H&M Maternity Dresses Good?
H&M maternity dresses are generally of good quality and usually come with a comfortable fit. Like with most clothes from H&M, the price is reasonable while their design can be very chic and fashionable.
Some traditional aspects of typical maternity dresses like empire waistlines and A-line silhouettes would also make them great for regular use post-pregnancy.
However, its fabric tends to stretch out after some time wearing it. This makes the dress look shapeless although it still fits well on your body at that point in time.
Are H&M Maternity Clothes Worth It?
Overall, H&M maternity clothes are a good value for your money. They are affordable, stylish, and of good quality. However, keep in mind that some pieces may not last as long as you would like them to. So, my advice would be to also not overdo it on the washing. This will usually degrade the clothes more quickly.
To get the best bang for your buck, go with timeless pieces like black dresses and leggings. So you can also wear them with your second or third pregnancy.
Sources:
Wobbly Walk – Maternity Leggings – The Ultimate Guide to Picking the Best Pregnancy Leggings For Pregnant Women