If you're looking for some tunes to make the day amazing here is a list of our favorite Disney songs.
Disney songs are timeless classics that can be enjoyed by both children and adults alike. With so many amazing tunes to choose from, it can be difficult to narrow down the best ones for you and your child. In this blog post, we'll be exploring the top Disney songs that children are sure to love. We've included YouTube links to each song so you can easily listen to them with your little ones.
Our all time favorite disney songs
Ah, Disney songs! Who doesn't love them? From classic films to modern ones, Disney has produced some of the most memorable songs for children to listen to. So, let's dive in and explore some of the best Disney songs for children.
We can't talk about Disney songs without mentioning "Let it Go" from Frozen. This song is an instant classic, and children all over the world love singing along to it. With its catchy tune and empowering lyrics, it's no wonder that this song has become so popular. So, grab your child, put on the song, and let them belt out "Let it Go!"
"Hakuna Matata" from The Lion King (1994)
Another classic Disney song that children love is "Hakuna Matata" from The Lion King. This song is all about living a worry-free life and embracing the present moment. It's a fun and catchy tune that your child will love singing along to, and it's a great reminder for all of us to let go of our worries and live in the moment.
"You've Got a Friend in Me" from Toy Story (1995)
This heartwarming song from Toy Story is a tribute to friendship and the bond between a child and their toys. The catchy melody and lyrics are sure to put a smile on your child's face and remind them that they always have a friend in their favorite toy.
You're Welcome from Moana - Dwayne The Rock Johnson
In this song, Maui humorously lists the numerous impressive feats he's accomplished throughout history, while Moana looks on in awe. The song reflects Maui's larger-than-life personality and serves as a fun and memorable moment in the movie.
"A Whole New World" from Aladdin
This romantic duet from Aladdin is a beautiful song that celebrates the wonder and excitement of new experiences. The soaring vocals and stunning melody make this song an instant classic that your child is sure to love.
Can You Feel The Love Tonight from "The Lion King"
This heartfelt ballad, originally performed by Simba and Nala, expresses the emotions of love and captures the magic of a starry African night. It's a memorable and timeless tune that conveys the deep connection between the two characters.
"Under the Sea" from The Little Mermaid (1989)
This upbeat song from The Little Mermaid celebrates life under the sea and is a great way to introduce your child to different types of sea creatures. The catchy chorus and Caribbean-inspired melody are sure to have your child singing and dancing along.
"I Just Can't Wait to Be King" from The Lion King
A lively and catchy song, sung by young Simba and Nala as they dream about growing up and becoming king. The song is filled with vibrant animation and playful lyrics, capturing the excitement of youth and the desire for adventure.
Will Smith - Friend Like Me from Aladdin
The Will Smith version, is a lively and modern reinterpretation of the classic song from Disney's "Aladdin." In this rendition, Will Smith, who plays the Genie in the live-action adaptation, infuses the song with his own charismatic style and humor. The song showcases the Genie's magical abilities and his willingness to grant Aladdin's wishes in a fun and entertaining way, making it a standout moment in the film.
"Bare Necessities" from The Jungle Book
For a fun and upbeat Disney song, "Bare Necessities" from The Jungle Book is a great option. This song is all about living a simple life and enjoying the little things. It's a great reminder for children to appreciate what they have and to find joy in the simple things in life.
"Circle of Life" from The Lion King
Staying with The Lion King, "Circle of Life" is another great Disney song for children to listen to. This song is all about the natural cycle of life and how everything is connected. The lyrics are powerful and the tune is beautiful, making it a great song for children to learn about the importance of the environment and how everything is connected.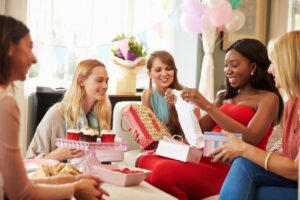 All Articles
Share Contents Baby showers are a wonderful way to celebrate the arrival of a new life and for family and friends to gather and "shower" the expecting parents with love,
Read More